Bari
Bari is a town located in Southern Italy in a region called Puglia just the heel of the boot-shaped territory, when seen on the map. It has 320,000 inhabitants and is one of the most populated towns in the south of Italy. The name of Bari airport is Palese and it offers interconnection with other Italian and European cities.
There is also a port in Bari where ferries and cruise ships directing mainly in Greece and in the Middle East dock. Each year 1,800,000 passengers arrive at and depart from the harbor of Bari.
The basilica of Saint Nicolas (Basilica di San Nicola) is one of the sights of Bari. Saint Nicolas is favored geatly by the citezens of Bari which is a destination of numerous pilgrims from all over Italy. In the course of centuries some of them left gifts as ex-voto, like the Bohemian crystal ampullas, the crystal candle-holder made of rock and silver filigree or the gold copper plate. Previously, the bones of Saint Nicholas were kept in a shrine in Myra, Turkey. When the location was conquered by the Saracens, they transferred his relics to Bari.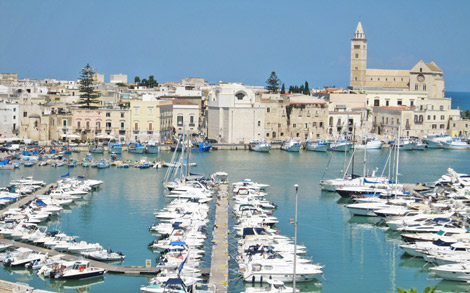 The basilica was built in the 11th-12th century. The exterior consists of two big towers due to which made the church looks like a castle. The internal area of the church includes columns, a matroneum (the place where the seats for women were located), one single nave, two aisles and pilasters.
Among the most famous military buildings in Bari visitors can see the Swabian Casle (Castello Normanno- Svevo in Italian). The Aragon walls and the tower are in currently under repairing.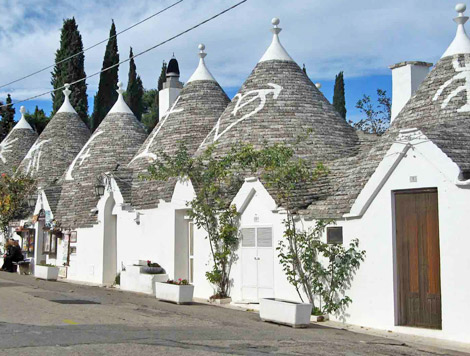 The little village called Alberobello is a great choice for people who wish to visit a typical village of the countryside. It is famous for its buildings called Trulli. They are white dry-stone houses with conical roofs made of lapidary stones. The interiors of trulli are composed of a single square room in the surrounded by arched rooms. Often the roof of the trulli is adorned with typical images related to religion or to the signs of the zodiac.
In 1996, UNESCO declared Alberobello a World Heritage Village. It has been chosen by a lot of directors as an ideal location for film shooting.
One of the most important Italian fairs is organized in Bari every September, known as the Fiera del Levante, attracting thousands of foreign visitors and exhibitors.
Regarding foreigners accommodation, the city offers lots of options. The hotels in Bari are usually centrally located, close to the main sights, the harbour and the airport.