Verona
Known as the place where the famous drama of William Shakespeare's, Romeo and Juliet, took place, Verona is one of the most romantic cities of Italy. Located in the north-east part of Italy, in Veneto -a very wealthy area of Italy, Verona has 715,000 habitants.
Roman, Gallic and Germanic remains can be seen in the city which was founded by an ancient tribe called possibly Euganei or Raeti and later it was under the occupation of the Gallic Cenomani.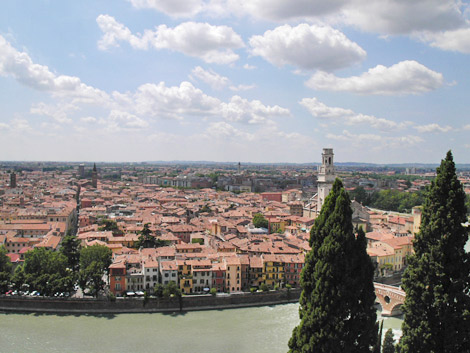 The so called "balcony scene", mentioned in Shakespeare's play, is the most visited sight of the city Even nowadays, visitors can come to Juliet's house and lean out of the famous balcony. It has turned to a compulsory destination for any romantic couple. According to the myth, lovers can write can make a note with their names and stick it up on the wall of Juliet's house so that their love last forever. In addition, Verona is a popular destination thanks to the fact that it is close to a really touristic place of great importance, Venice. Verona is 120 km from from Venice. Visitors are often attracted by the peaceful atmosphere of the city.
Verona hotels are conveniently located close to the major historical and cultural sights of the city. A great part of the city sights have been included in the World's Heritage Site of UNESCO. Going for a walk in it, one can see the Teatro Romano, located across the Adige river as well as the Castevecchio castle that has been built of red bricks, the Castle Scaligeri and the Roman amphitheatre called The Arena, situated in Piazza Bra, which was used for the gladiators fights that entertained the Romans. It is still functioning and each year it hosts some of the most popular plays, dramas and concerts, thanks to its 25,000 seats.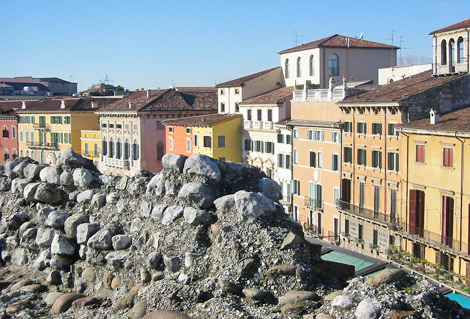 A lot of Verona hotels are centrally located so visitors can easily access sightseeing places such as the marble tower Torre dei Lamberti and its clock, the Piazza delle Erbe and its fountain, etc. Visitors can find very interestings attractions like the Basilica of St. Zeno (example of Romanesque architecture), the Giardino Giusti gardens and the chapel of San Giorgetta where visitors can admire lots of frescoes created during the Renaissance. The hotels in Verona are located in areas full of lovely cafes and stores of any type.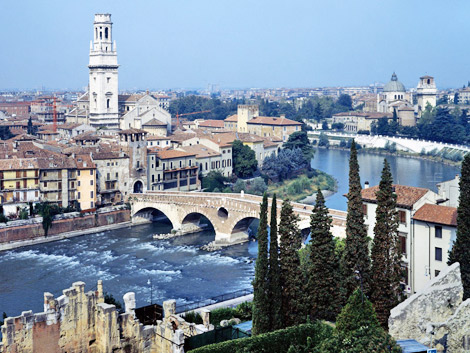 Verona is one of the most visited cities in Italy thanks to its tourist attractions and its proximity to Venice (only 100 km far), Milan, Lake Garda, an amusement park called Gardaland and the region "Emilia Romagna".
It is always advisable to book the hotel in Verona in advance (most of all during concerts and plays taking place in the Arena), as the resort is very popular thus always full of tourists.